Annual Awesome 80's Ski Trip
January 27th, 2019 - 4:00 AM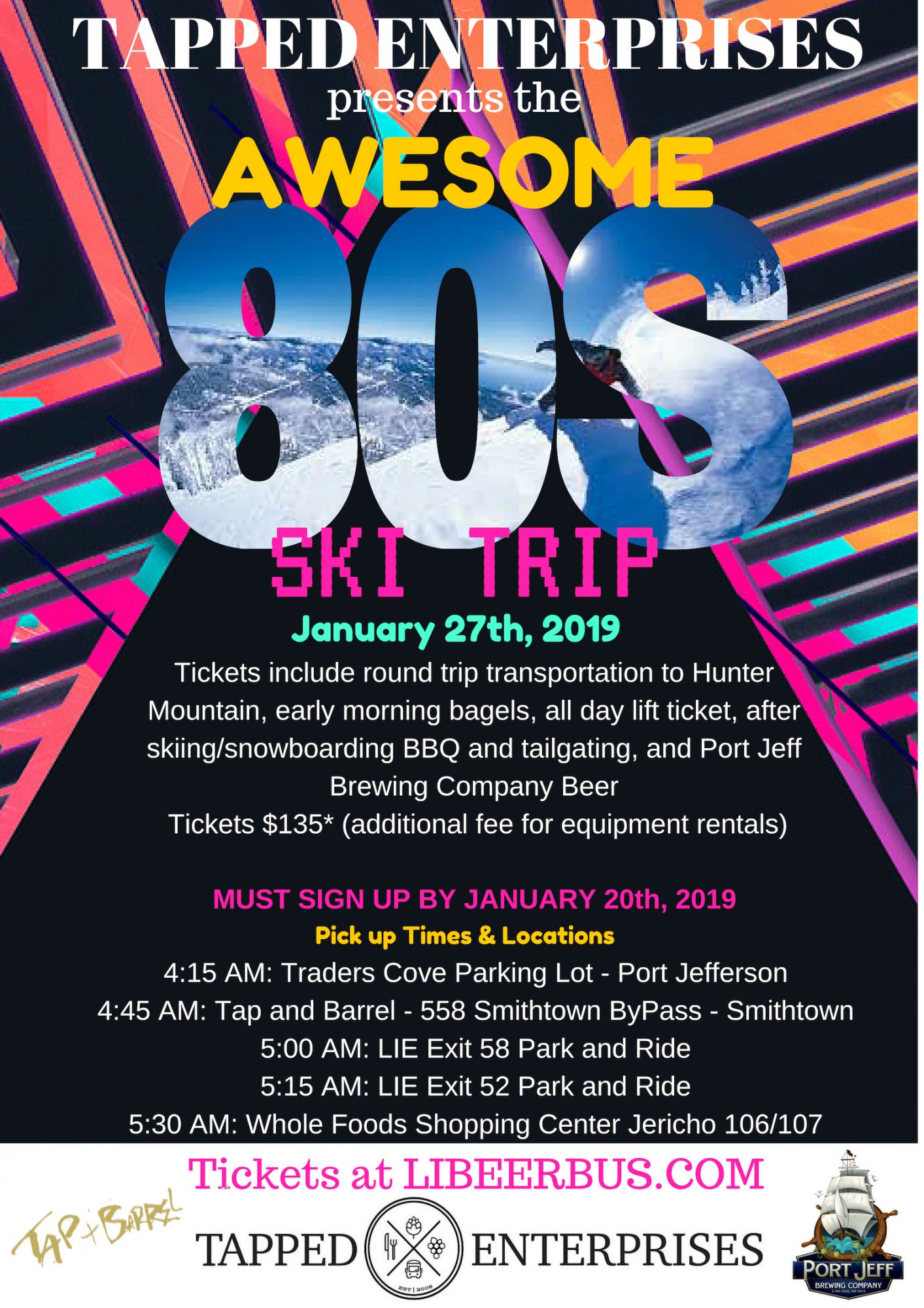 It's awesome, it's 80's, and it's back for another year. Join us again for another revisit to what may have been the greatest decade of all time...we can't promise you'll love the music, but we can promise a good time. It's a yearly sell-out, so get your tickets early!
Tickets include round trip transportation to Hunter Mountain, early morning bagels on the bus, an all day lift ticket, after skiing/snowboarding BBQ tailgating, and some great brews compliments of Port Jeff Brewing Company.


Tentative Schedule of Day
Pick Up Bus at Pick Up Locations (Don't Be Late)
Early Morning Bagels and Some Great Movies for the Ride Up (80s Inspired Whenever Possible)
Get to Hunter Mountain Before Lifts Open
Ski and Ride all Day or Try Tubing If Skiing or Snowboarding is not your thing
3:00 PM Tailgate Kicks off and Grill is Fired Up in Parking Lot by Bus
Beer is served by Port Jeff Brewing Company
Hang Out, Mingle and Tail Gate till 6 PM
6:00 PM Head back to Long Island



Must Sign up by January 25th!




Pick up Times and Locations:
4:15 AM: Traders Cove Parking Lot - Port Jefferson (By Portside Bar and Grill)

4:45 AM: Tap and Barrel - 558 Smithtown ByPass - Smithtown

5:00 AM: LIE Exit 58 Park and Ride

5:15 AM: LIE Exit 52 Park and Ride Commack Rd. South of the LIE

5:30 AM: Whole Foods Shopping Center Jericho 106/107
« Return to all events